🔯🕎MUSLIMS IN MEDIA STATISTICS. my ass. Why Ain't Israelis hold their Miniature Cocks for their own Outfucked Plight? 🕎🔯
قد مكر الّذِين مِن قبلِهِم فأتى اللّهُ بُنيانهُم مِّن القواعِدِ فخرّ عليهِمُ السّقفُ مِن فوقِهِم وأتاهُمُ العذابُ مِن حيثُ لا يشعُرُون
Muslim Statistics
Almost half of English people more suspicious of Muslims as a result of recent terror attacks, study finds
'Worrying' report shows a quarter of English people believe Islam is a 'dangerous' religion, but overall England is becoming more tolerant and open
May Bulman, @maybulman
The Independent Online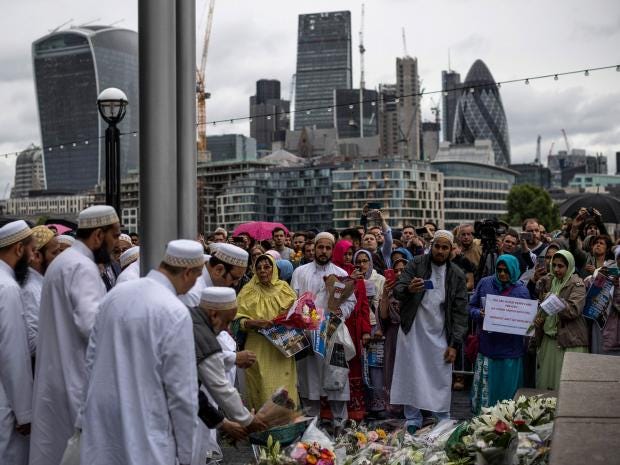 Members of the Muslim community lay flowers after attending a vigil for the victims of the London Bridge terror attacks.
More than four in 10 people in England are more suspicious of Muslims as a result of recent terrorist attacks, despite the country becoming more tolerant and open overall, according to a major new study.
Figures reveal that following recent incidents in Westminster, Manchester and Borough Market, 42 per cent of people have less trust for Muslims in Britain, while more than half (52 per cent) believe Islam is a threat to the West.
A quarter of English people also believe that Islam is a…
View original post 603 more words